Hope you were able to pick up yesterday's great freebies and are back for more.
Jacque from Mommy and Me Creations freebie is first up and it's called Happy Fall, Y'all (don't you just love that name?). This is a great autumn themed memory game for preschoolers.
Mary from Pitner's Potpourri has a great freebie for you today as well! Are you ready for some Spooky Writing? Sure hope so.
Click on the image below to pick up your freebie.
This is an awesome Narrative Writing activity that includes a graphic organizer, rubric for scoring and picture cards.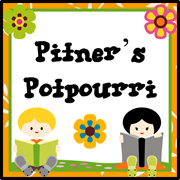 Enjoy!